Roosevelt Memorial Park
Truly an oasis of beauty and serenity in the heart of the city, Roosevelt Memorial Park Cemetery 18 serene acres of green manicured lawns, idyllic tree-lined drives and impressive architectural landmarks from 1923.
Today even more to celebrate.
Nestled in Gardena, in the Roosevelt neighborhood, Roosevelt Memorial Park is thriving as a treasured community resource. And since we're just a short drive from most of Southern California, we're more valued than ever by so many local residents.
In the community since 1923, we've learned a lot about caring for families over the years. We realize that we aren't just caring for a loved one, but the entire family.
People come to us during their most difficult times, and we respond with kindness, understanding and expertise. Our goal is to make everyone feel at home as we work with them to create a memorable service in honor of a beautiful life. Our bilingual staff is here to help your family every step of the way.
If you have questions or needs, feel free to call us. We would be honored to help.
Meet the Heart of Roosevelt.
These are the caring professionals that can reduce your stress and anxiety.
A funeral, or memorial service, should provide family members and loved ones with the chance to reflect, remember, and celebrate a life well-lived. At Roosevelt Memorial Park, our goal is to create exceptional services and experiences that fulfill the wishes of you and your loved one. Our experienced bilingual staff will guide you through this difficult period, handle every detail, and anticipate every need. It's the kind of service we've been perfecting since 1923.
Javier Fernandez
Director of Cemetery Operations
Jennifer Rebollar
Cemetery Office Manager
Ruben Pena
Park Superintendent
Efrain Olivares
Lead, Park Operations
Jeanette Orantes
Family Service Counselor
Olga Carrejo
Office Administrator
Sylvia Garcia
Family Service Counselor
Roosevelt Memorial Park Association is an Endowment Care cemetery. We are licensed under the State of California Department of Consumer Affairs, Cemetery & Funeral Bureau.
Read our Privacy Statement here.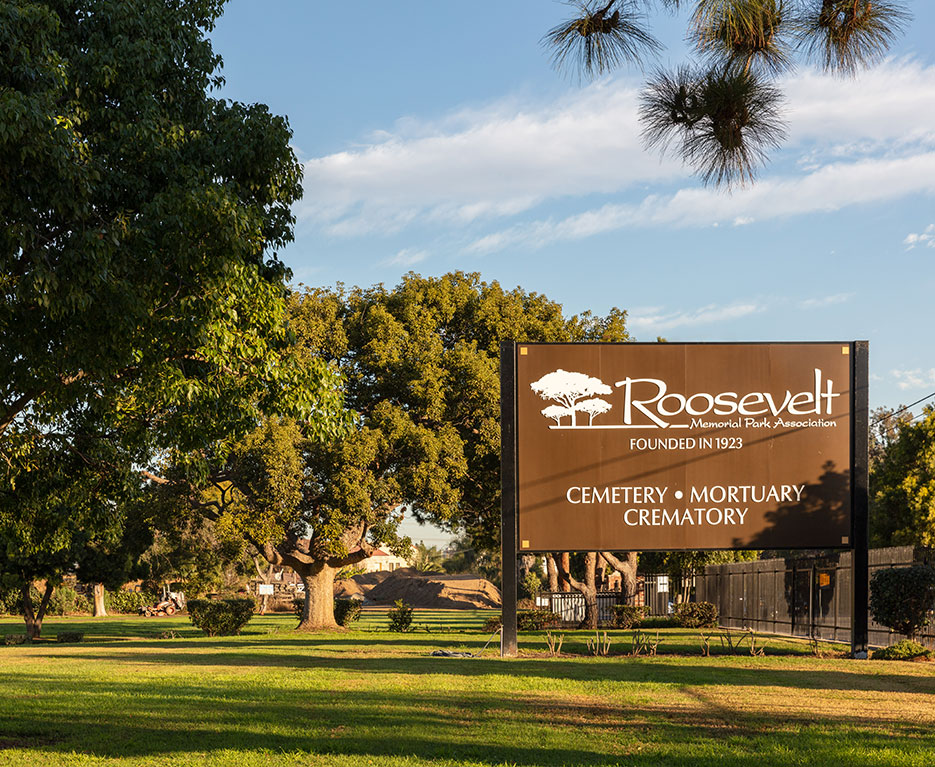 The year was 1923.
The Los Angeles Memorial Coliseum opens.
A young cartoonist named Walt Disney arrives in Los Angeles with $40 in his pocket.
The 242 mile long Colorado River Aqueduct construction to bring water to Los Angeles is half finished.
Los Angeles hits one million residents.
The Hollywood sign is erected in the Hollywood Hills.
Los Angeles General Hospital is completed.
Roosevelt Memorial Park holds its opening dedication.